March - Surviving the OSHA Audit
March Educational Event
Surviving an OSHA Audit...
Common Sense Solutions to your most Fear Compliance Issues

March 22, 2018
David wrote the book on OSHA (he really did!) check it out...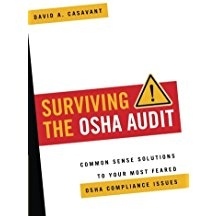 More about this book
More about him, David Casavant, CFM
Last year, OSHA made nearly
40,000 workplace inspections
- without warning - and discovered over
89,000 violations
resulting in millions of dollars in fines!
Facility professionals are typically included in any OSHA inspection and its often your assets that are being inspected. You'll have to answer potentially difficult questions and that's not a fun place to be.
The good news is that compliance does not have to be difficult if you know what to expect.
Develop an OSHA compliance game plan for your company
Understand the top five OSHA violations in facility management
Discover ways to reduce OSHA fines
Worth 1 CFM maintenance point
The Country Club of Orlando
1601 Country Club Drive
Orlando, FL
Check in/Registration: 11:15am
Lunch/Program 11:45-1pm
Register here