Recromax
(Leah Palmer, IFMA member) was one of the first on the scene of an vehicle vs business loss! Go Recromax!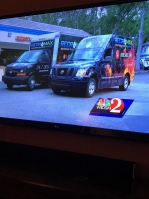 Suddath Workplace Solutions
of Orlando (Jim Connell and Garrett Gispanski, IFMA Orlando members) recently completed a multi phase project for a local attraction in which Suddath received, built, delivered and installed over 10,000 pieces of outdoor furniture, fixtures and equipment. The project entailed over 25 different vendors, creating time-certain deliveries while managing crews and equipment to successfully meet an unmoving deadline.
Do you have any exciting news to share? A promotion? A new baby? award? Please forward info to the
ifma office
for consideration for publication.